2021 UPCOMING EVENTS

Lebanon Baptist Church is currently in a 'Pandemic Mode'.
Currently you will find us streaming our Sunday Message through Facebook 'In the Lebanon Baptist Church' parking lot.

We invite you all to come sup with us on Rev. D. Douglas F.
Adams' abbreviated service.

And enjoy the musical interlude by Music Minister Ivan Pretlow, Deacon Johnnie Johns, and Rev. Dennis Harrison

A 'Good Time' is being had by all!

Beep your horn: AMEN!
LBC Audio Conferencing Bible Study
"One of the great questions for the development of character is this: "What kind of a world would this world be if everyone in it was just like YOU?"
CORONAVIRUS
▼
**211 Getting Involved iN COVID_19**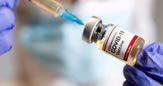 Please remember to donate to the Missionary Drive. (See Sister Shelia Hunt for more information!)
Visiting Deacons for June: Deacons Johnnie Johns and Ralph Doswell